Total Demolition Service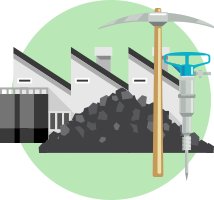 We also specialize in the dismantling of plant equipment, including all plant buildings, processing machines, mass production equipment, industrial robots, heat treatment furnaces, etc. We have dedicated engineers who are well-versed with asbestos investigations, trace amounts of PCBs, and chlorofluorocarbon control laws.
We have been in the demolition business for about 80 years.
We are always happy to hear from people who are unsure of the services they would like to request, so please feel free to contact us.
Customers who consult with us
Automobile Manufacturers
(Electric) Power Company
Railroad Company
Steel Manufacturers
Precision Equipment Manufacturers
University
Do you have any of these problems?
Customer Issues
01I would like to request all demolition-related services.
We are looking for a contractor who can handle the total process, including notifying the government, underground burial removal, soil investigation, and shed demolition.
02I don't know the procedure for disposing hazardous materials.
From surveys to the treatment and disposal of hazardous materials such as asbestos, PCBs, CFCs, dioxins, etc.
03I want to dismantle production lines for automobiles, etc.
We would like to request the demolition of special buildings, including heavy equipment and small equipment, as well as the demolition of plant infrastructure equipment.
04I'm having trouble with executing demolitions in places where fire is not allowed.
Other contractors said it would be difficult due to difficult construction work under limitations such as not being able to use fire or having to work in a very small area.
We're here to meet that need!
What Keiaisha can do:
01
Total Dismantling Service
From surveys and government agency notifications to construction work, safety management, and scrap purchase.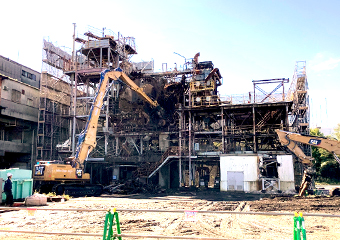 "We propose efficient construction processes from the planning stage to minimize our customers' costs. This includes preliminary investigations of hazardous materials, notification to government agencies, and construction plans and proposals.
In addition, we will utilize the advantages of being a metal trading company to thoroughly evaluate the scrap materials generated and return them to our customers."
02
Specializes in hazardous materials and prepares investigation reports.
Treatment and disposal of asbestos, PCB, dioxin, waste acid waste alkali chemicals, etc.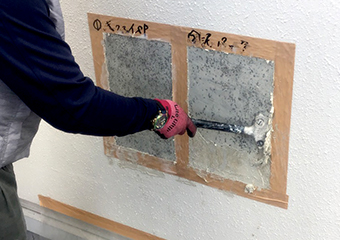 "We will use our expertise to investigate hazardous materials used in facilities and buildings and prepare reports to be submitted to government agencies.
We have dismantled various types of equipment, including 6,000-ton class large hydraulic presses and cogeneration facilities."
03
Dismantling of large heavy equipment.
Dismantling of large presses, power generation equipment, melting furnaces, heat treatment furnaces, etc.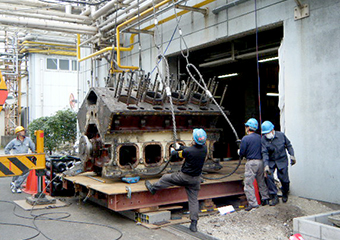 We are experienced in the demolition of asbestos, PCBs, and other materials used in these facilities, and we will propose safer and more compliant solutions to our customers based on our expertise.
04
Environmental issues are also taken into consideration.
Oil, noise, vibration, and dust control.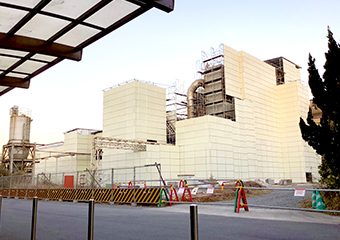 We will propose a plan so that construction can be carried out while the plant is in operation, paying close attention to oil disposal, noise, vibration, dust, etc.
We have a lot of experience working under various constraints, so we are confident that we can deliver solid proposals for more difficult projects.
Please feel free to contact us about the demolition of factories and plant facilities.
Contact
Demolition Work Service
Construction Flow
Please contact us regardless of how difficult your dismantling project is. We will propose the best plan that takes safety and the environment into consideration, and provide efficient construction services based on a consistent and responsible construction system designed by our professional engineers.
STEP02
Preliminary On-site Survey
STEP03
Safety, construction method, and price are considered based on the survey results.
STEP04
Estimate Submission
STEP05
Construction Contract
STEP06
Preparation of construction plan and implementation of preconstruction meeting
STEP07
Responsible Construction
STEP08
Completion of Construction
Strengths of Demolition Department
It is possible to conduct integrated construction, which includes proposal sales, survey, planning, and implementation.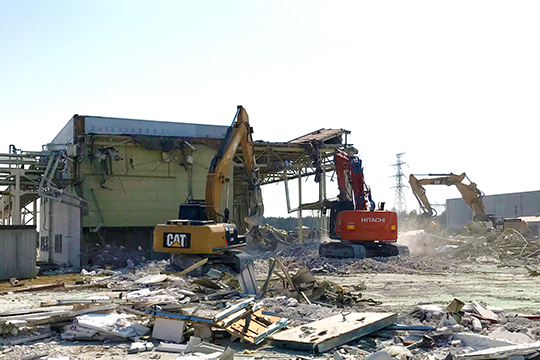 We can handle all services related to demolition (surveys, waste disposal, documentation arrangements, etc.) and construction.
Since all the work is done in-house, there are no extra costs or administrative procedures, which reduces the burden on the customer.
Specialized in dismantling small and large equipment.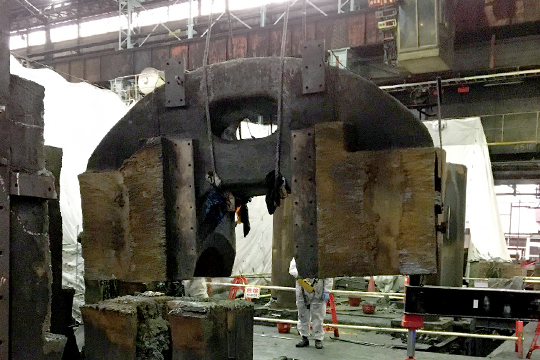 Dismantling factory-specific machinery requires a high level of expertise.
Given our years of experience, you can rely on our expertise in dismantling both small and large equipment.
Specializes in demolition of substations, power plants, and other dedicated facilities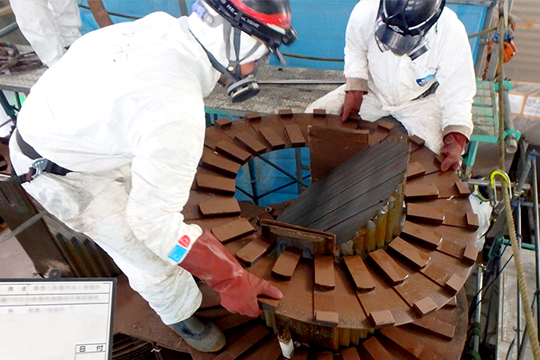 Facilities such as substations and power plants often contain PCBs in the insulating oil and asbestos and other hazardous substances in some of the insulation materials. These must be properly identified and treated.
We can handle this through a survey and perform the most appropriate demolition based on the characteristics of the facility.
The materials generated are sorted into useful materials and industrial waste and disposed of properly.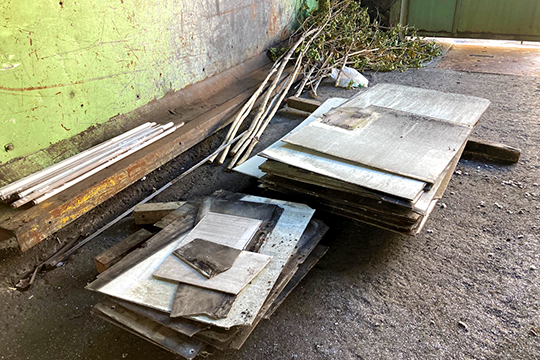 The disposal of materials generated during demolition work is determined in detail by law.
We determine what can be discarded and what can be purchased, and dispose of them responsibly in accordance with the law.
Please leave difficult construction work that has been rejected by others to us!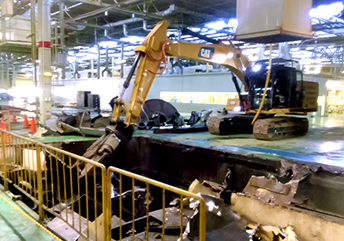 Dismantling of Painting Facilities
Dismantling painting facilities requires sufficient experience and a high level of skill because they contain flammable materials such as paint and thinner.
We employ our own fire-free methods to ensure that our work is always safe and secure.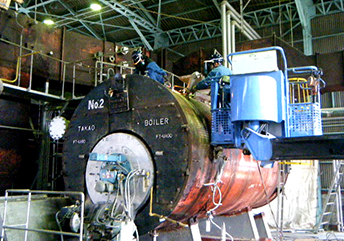 Dismantling of Boiler Equipment, Chimneys, and Furnaces (analysis and removal of asbestos)
We use gas fusion to dismantle boiler equipment, and we possess the technical skills and equipment to cut even one-meter-thick chunks of steel.
In addition, careful asbestos surveys and proper cleanup are critical for asbestos removal demolition.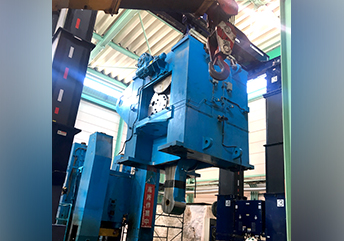 Dismantling of Press Equipment and Heavy Equipment
We dismantle large press equipment by its structural parts, avoiding gas fusion as much as possible. In addition, we dispose of oil and waste liquid in an eco-friendly manner.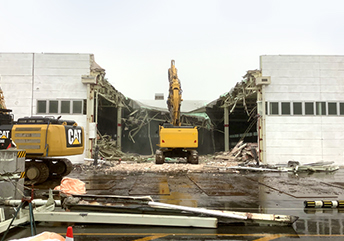 Building Demolition
We mainly handle large-scale RC and steel-framed buildings, but also include wooden houses. We take full responsibility for construction, including government agency notifications (construction recycling, etc.) and neighborhood countermeasures (house surveys, etc.).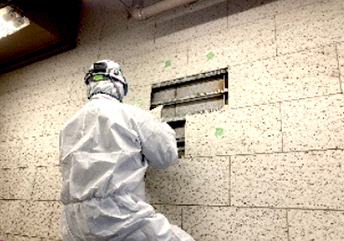 Industrial Waste and Hazardous Waste Disposal
We properly dispose hazardous materials such as trace amounts of PCBs, asbestos, dioxins, and heavy metals in compliance with laws and regulations. The process involves preliminary investigation, notifying government agencies, removal treatment, collection and transportation, and final disposal.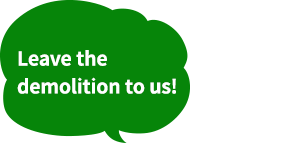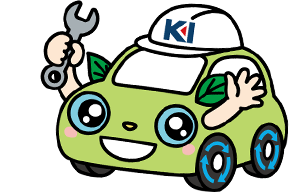 Construction Achievements
Some of our major construction achievements:
| Construction Location | Order Recipients | Construction Title | Construction Period |
| --- | --- | --- | --- |
| Iwaki City, Fukushima Prefecture | Automobile Manufacturers | Automatic Rack and Lift Removal | March 2017 |
| Sakura City, Chiba Prefecture | (Electric) Power Company | New Sakura Substation Transformer Removal Assistance | March 2017 |
| Yokohama-city kanagawa prefecture | Automobile Manufacturers | Test Plant Exhaust Pipe Removal | January 2017 |
| Oyama City, Tochigi Prefecture | Construction Companies | Dismantling of Charging and Discharging Racks (Phase 1) | August 2014 |
FAQs
Does it cost more to ask for each type of construction?
First, we will ask you about the situation you would like to use after the construction. There is no need to place orders with different companies; we are a one-stop shop.
We also specialize in construction management and can provide a solution for each construction project.
What service should I ask for first?
We will conduct an on-site survey and propose the necessary procedures, construction methods, etc. If hazardous materials remain, we will dispose of them appropriately.
I need hazardous material removal performed.
We can provide a full range of services, including surveys and the removal and disposal of asbestos, trace amounts of PCBs, dioxins, etc.
I need a large press machine dismantled.
We have experience in dismantling a variety of presses (50t to 6000t). We will propose a construction method suited to the site.
I need a substation/power plant demolished.
We will investigate the PCB content of condensers, transformers, etc. and accordingly determine whether to dismantle the site or whether it can be removed directly.
Please feel free to contact us about the demolition of factories and plant facilities.
Contact
Demolition Work Service
Contact
Please fill out the following e-mail form and select the "confirm"
HOME /
Demolition Work Service